Happy Friday and CJDS Spirit Day!  We started the day with a fun-filled Shabbat Assembly where we saw everyone's Torah costumes.  Here is a look at our 4th grade!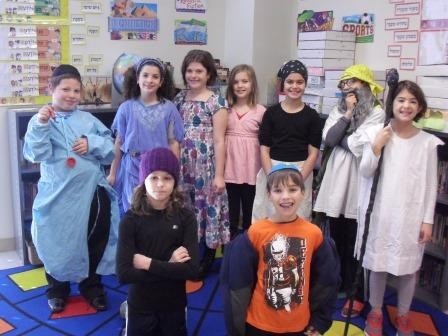 We had a busy week finishing up our first trimester of the 2014-2015 school year!  In Reading the students enjoyed reading and discussing our final story from the Junior Great Book series: Ali Baba and the Forty Thieves.  In Writing, the students have been revising their own writing to add in strong verbs that add energy to their writing pieces.  In Math we have finished up our unit on decimals.
Every day the students look forward to our afternoon Project Based Learning time!  They have been working hard in their groups on their culminating projects.  The topics include the water cycle, water animals, waste water, and water pollution.  The students picked the types of projects as well – from art projects to Power Point and video.  They will continue to work on their projects after the Thanksgiving Break.