The second grade would like to say a special thank you to all the moms and dads who attended our writing celebration (and all the moms and dads who encourage us to do our best work everyday!) The students had a wonderful time and you helped make it so much more special! If you'd like to keep your child's creativity flowing this summer, encourage them to journal their special moments! Let your child pick out a new notebook and set some time aside this summer to write and share stories.
Here are the students setting up their celebration!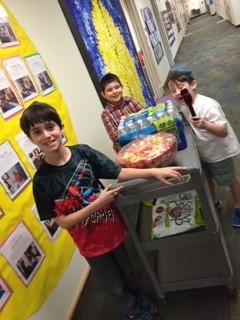 Time to practice our public speaking skills!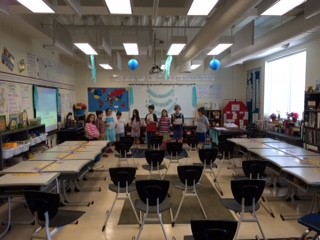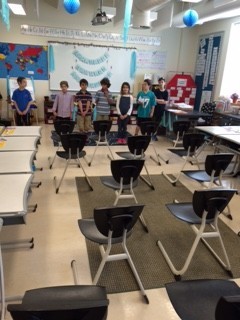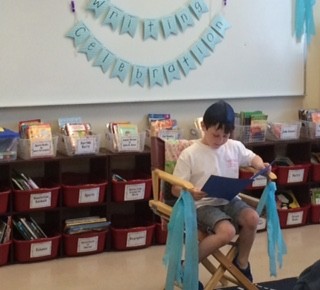 We loved sharing our portfolios with our parents! Thank you for taking time to look at our hard work!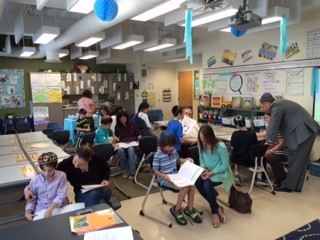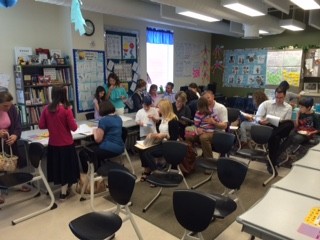 Time to relax!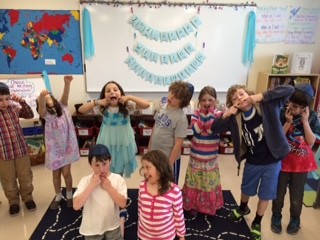 Reading
We are currently working on making inferences when we read and thinking past what the writer says. For example, in Charlotte's Web we just read a chapter about the seasons changing. E. B. White wrote, "A little maple tree in the swamp heard the cricket song and turned bright red with anxiety." This is a great example of a time when the reader has to think past what the author is saying to figure out what is happening in the story. Together we were able to determine that the sentence meant that the leaves of the tree were changing colors because it was fall! Next week we will continue with this same skill. We will also continue working on the vocabulary words: Accepted, express, fluttering, grand, pretend, prize, wonder, and taught. 
Spelling
Due to our writing celebration and next week's field trip we will extend our spelling words through next week. We are currently studying how to put verbs into the past tense by adding "ed" or by dropping the "e" and then adding "ed" on words like grade.
Writing
As we move through our word choice unit the students have had the opportunity to write fiction stories (some of which were shared at our celebration!) The students are learning how to use stronger adjectives and verbs to make their meaning clearer and more interesting for their reader.
Math
We have completed unit 9 on measurement. This week the students created "Gallon Man" to help them picture the relationship between cups, pints, quarts, and gallons. Our next math unit covers place value and working with decimals. We will look at partitioning shapes with pattern blocks again, like splitting a hexagon into two trapezoids. We will also working on solving equations that use parenthesis, like ( 9 + 8 ) – 7 = ________.
Betsy-Jeff Penn Center Overnight Trip!
On Monday, we are leaving for our overnight trip. Students should report to school at 7:40 on Monday so that we can leave on time. We will return by 3:30 on Tuesday. Please watch your email for more information about this trip, including reminders about what to pack. Please remember that space is limited in the bus and cars traveling with our group, so extra items and technology need to be left at home. Thank you!