Now We're Officially Second Graders!
After one full week of school, we are now officially CJDS second graders! The students practiced many classroom expectations this week like: unpacking and packing up, using their lockers, writing in their planners, picking out books, working independently, and participating in read aloud time.  We will continue setting expectations for different activities throughout the next weeks, so that students feel confident all day long.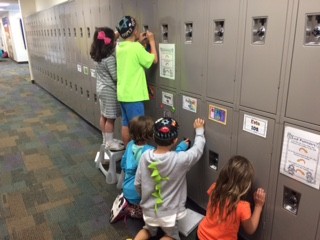 Reading
This week the students learned that they are in charge of their own "reading lives." By this we mean that they need to take control of what they read and pick out books they will enjoy. Currently the students are bringing home 3 books each night in their bag of books and these books should return to school the next day. We did lessons this week on picking "just right books." The students were encouraged to pick out books on or near their reading level and that they think look interesting. Trying to read a book that is way too hard, way too easy, or way too boring is not going to make you a stronger reader! I am currently assessing the students' reading levels and more information will come home about this soon.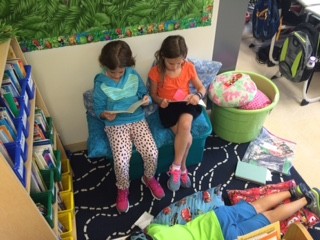 We have read several different books that encourage students to accept others' differences, always stay true to themselves, show kindness, and love reading! Ask your child about the following awesome books:
Chrysanthemum by, Kevin Henkes
Big Al and Shrimpy by, Andrew Clements
The Secret Olivia Told Me by, N. Joy
Rosie Revere Engineer by, Andrea Beaty
Scarecrow Pete by, Mark Kimball Moulton
Writing
This week we talked about our hopes and dreams for second grade. So many of us are excited to learn how to multiply and become even better readers! My dream for this year is to build a classroom community where students take risks, learn from one another, and treat each other with respect! The students recorded their hopes and dreams for the year and we will review them periodically to see if they are meeting their goals.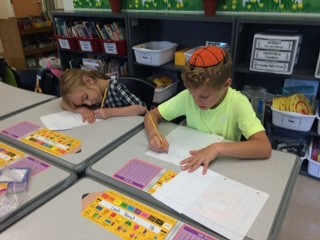 Spelling and Language Arts
We are currently finishing the 250 high frequency word spelling test. We have split this test into chunks so that the students aren't assessed on too many words each day. Today we began our Daily Oral Language lessons (or DOL.) These lessons focus on sentence and paragraph editing, phonics, grammar, and writing mechanics. These are quick lessons that we do each day on our SmartBoard and the students get to work with their peers to build their language skills.
Here are some of the students participating in our Daily Oral Language lesson:
Math
Now that we have completed our beginning of the year math assessments, math classes will be in full swing next week in Mrs. Felter's and Ms. Schultz's classrooms. The students will begin unit 1 and work on sequencing numbers on a number line, counting coins, and using clocks and calendars. Our first math unit is a review of some skills from last year that are easy to practice at home! Here are some math games to play at home:
http://www.brainpop.com/games/battleshipnumberline/
http://www.math-play.com/coins-game/coins-game.html
Below are some of the students playing math games that practice addition and place value.
We have had a wonderful week and we're looking forward to next week! Have a great weekend!