We had a very fun week in second grade! Even stuck indoors for recess we had great attitudes! We will be heading outdoors for our overnight field trip to the Betsy-Jeff Penn 4H Educational Center in Reidsville on Monday, May 4th and Tuesday, May 5th. Students should arrive at school at the normal time (7:40 A.M.), so we can leave promptly at 8. We will return no later than 3:30 P.M. on May 5th. The students brought home permission slips today and a list of what to pack. Please return the permission slips to Mrs. Felter by Monday, April 27th.
Reading
This week the students read Luke Goes to Bat and a nonfiction piece about Jackie Robinson. With these texts the students focused on visualizing and sequencing what they read. The students used a strategy called "Somebody, wanted, but, so, then, finally!" This reading strategy works with any text that tells a story (both fiction and nonfiction.) The strategy requires the students to identify:
"Somebody" (the main character),
what they "wanted" (the plot),
"but" (the problem in the story),
"so" (how did they solve this problem),
"then" (what came next),
and "finally" (the conclusion!)
As a group we used this strategy on Charlotte's Web and a story about Tiger Woods. We also studied doubling the endings of short vowel words when adding "ed" and "ing." These are words like stopping and hopped. We played some awesome games of Mario Kart on our marker board that required the students to double the endings of these action words before they could move on! Our vocabulary words this week were: Practiced, hurried, position, roared, extra, curb, cheered, and final. We will continue with these skills next week through Wednesday and work on antonyms and syllables too.
Here we are playing Mario Kart to learn how to double the endings of verbs!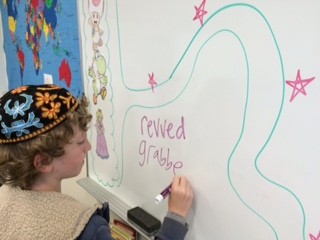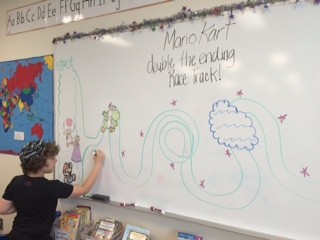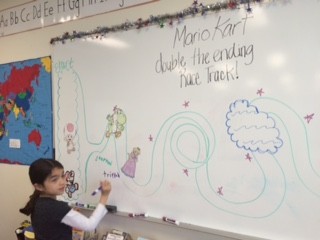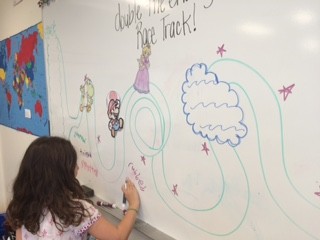 Next Thursday, we will begin our new reading lesson with the biography My Name is Garbriela and poems about reading and writing. With these texts we will study characters and learn how to analyze and evaluate text. We will study the suffixes "y" and "ful." Our vocabulary words for this lesson are: Accepted, express, fluttering, grand, pretend, prize, wonder, and taught.
Spelling
This week was a review week of our past 6 units. Based on their pretest, the students studied the words that they needed to review. Next week, we will study words that require the students to drop the "e" or "y" before adding "ed" or "ied."
Writing
We are having such a fun time working on our word choice unit! As part of this unit, the students made adjective rainbows about one of their peers. This activity helped them think of positive words they can use to describe others. The students planned and began writing realistic fiction stories this week. They love sharing their writing in our "Author's Share Chair." After a child shares we give them "Two glows and a grow," which means we tell the writer two things we loved about their work and one thing that they can do a better job of next time. After glows and grows the students get to pick their writing celebration (ask your child about their favorite!) We will continue adding vivid verbs and awesome adjectives to our writing next week!
Here are some of our writers sharing their stories in our "Author's Share Chair!"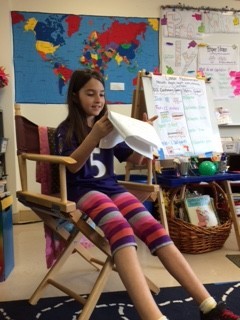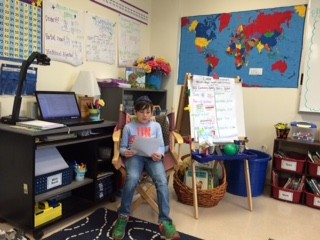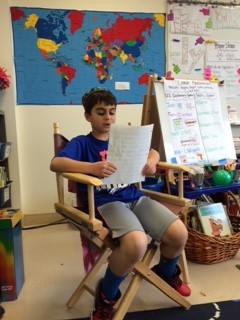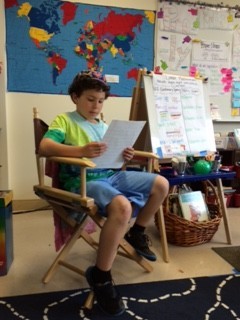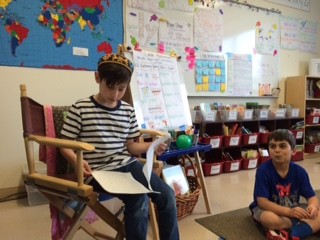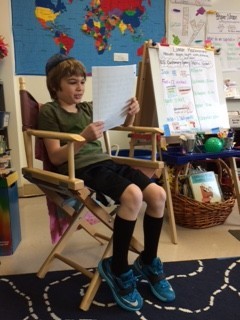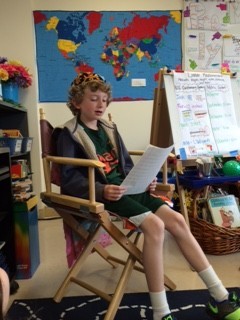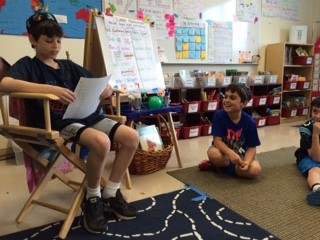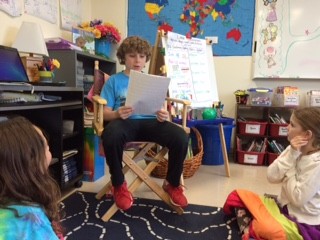 Math
As our measurement unit continues, we are focusing on measuring big things, like the distance between Seattle and Albuquerque! We determined that units like centimeters and inches are better for measuring small things, while miles and kilometers are better for measuring bigger things. The students had the opportunity to practice measuring using rulers, meter sticks, and tape measures. We also practiced our fraction, addition, and subtraction skills this week. We will continue working on measurement next week as we plan road trips using miles and explore capacity, area, and perimeter!