This Class is the Best Thing Since Sliced Bread!
There was no crying over spilled milk this week, as the second grade put their best foot forward and jumped on the idioms bandwagon! We decided that curiosity did not kill the cat as we practiced this good as gold literacy skill! We decided that once we know what an idiom means the world is our oyster because our books become clear as day! Okay… I can't think of anymore idioms…to make a long story short, we think idioms are a piece of cake!
Reading
This week the students read a biography on Mozart and then got to pick out another biography to read on their level. The students made biography brochures that included information on their subject's childhood, education, family life, major accomplishments, and other interesting facts. We learned about so many interesting people like Rosa Parks, JFK, and Abraham Lincoln! The students practiced reading the vowel pairs au, aw, ou, and ow by playing a fun matching game. We have begun working on adding expression into our reading out loud and our reading in our heads. The students practiced their oral reading fluency and expression by reading and rereading the play The Fox and The Crow. This play is a fable so the students took time to  identify the lesson it was teaching. With our vocabulary words the students practiced finding synonyms and antonyms. Ask your child to do the arm movements we learned for, "Synonym same, synonym same, antonym opposite, antonym opposite!"
Next week our vocabulary words will be more challenging! See if you can begin a discussion about these words over our long weekend: culture, community, languages, transportation, subjects, lessons, special, and wear. The students will practice their vocabulary words while also learning dictionary skills. The students will be reading an informational piece called, School Around the World and some school poems. We will again be reading to determine the author's purpose for writing. Quotation mark usage will be introduced next week and we will continue working on breaking words apart using syllables. The students will also be practicing reading the vowel pairs oi, oy, ew, and oo.
Writing
We have continued our focus on persuasive writing. This week we took time to create an author's voice that thinks about the audience we are trying to persuade. If you're writing a letter to your mom, you probably don't want to start with, "Our weekends are so boring…". Instead you could use your voice to get your audience on your side by writing something like, "I have thought of some ways to make our weekends even more fun!" We wrote letters back and forth between our two reading classes and the students are doing a great job coming up with reasons or supports for their arguments! Next week we will continue writing persuasive paragraphs and using our voice to make the reader feel what we are feeling. We also did a lot of work with apostrophes during sentence editing this week, and the students learned where to place an apostrophe in the following scenarios:
The girl's hat.
The girls' hats.
The princess' hat.
Spelling
This week the students focused on words that ended with "ch", "sh", "ss", and "x." All of these words require the students to add on "es" to the end instead of an "s." Next week the students will work on words that are all nouns with a variety of different endings. Their test will require them to determine if they should add an "s" or an "es" to make the noun plural.
Math
The students practiced finding patterns in a list of numbers this week. We noticed that you need to look at the number in the ones' place to determine the patterns. The students learned strategies for using addition and subtraction together to get to a target number. We practiced our subtraction strategies and played "Basketball Addition" which helped us add up groups of numbers. Mrs. Felter's math class did an activity today called "The Wubbles." This activity required the students to double and half numbers. The students will continue practicing doubling and halving numbers next week, as well as exploring weight, sharing money, and finding the median of a set of data.
Here are the students playing "Basketball Addition!"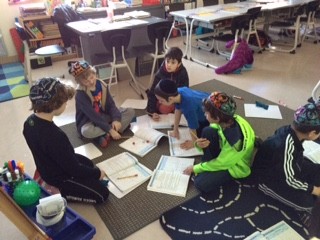 Our "Basketball Addition" scoreboard!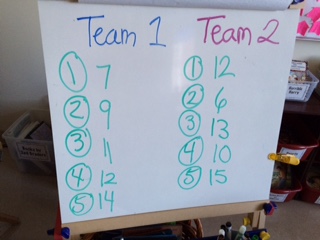 Field Trip
Our library trip was a big success! The students practiced using the Dewey Decimal system to find nonfiction books. We went on a scavenger hunt to find books on the different aisles and then our awesome library guide read us the wacky folktale, Armadilly Chilly (this book reminded us of The Red Hen that we had learned about in music class!) Next Wednesday morning, we will be visiting Discovery Place to see a presentation called I like to move it, move it.  We will leave school at 8:45 and return by 11.  Remember, no school this Monday!