Did you hear about how many toys CJDS donated to Aleph Institute? Miss Sheina organized a toy drive in December to help give toys to children whose parents were not able to be with them for Hanukkah. We were blown away by how many gifts were donated by our amazing families. We made some children very happy during Hanukkah! Miss Sheina brought our class popsicles to say thank you for all of the donations!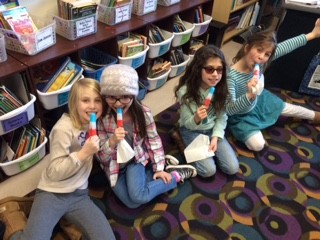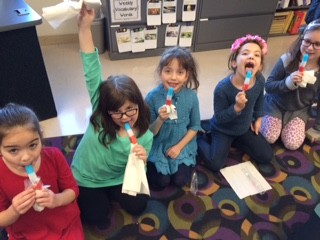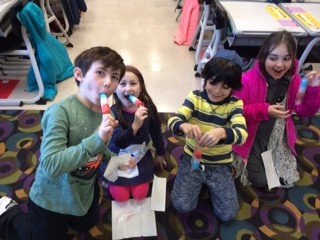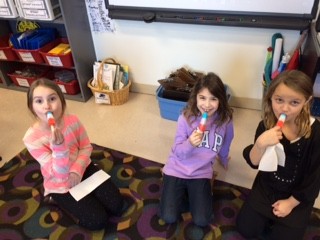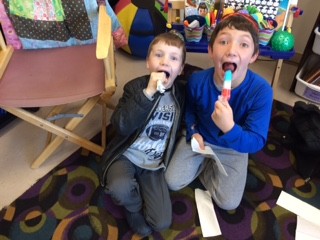 Reading
This week the students hunted for facts and opinions in nonfiction texts. We noticed that opinion sentences usually contain adjectives like beautiful, disgusting, scary, and unforgettable. The students also worked on using words that end in the suffixes "er" and "est." We learned that "er" compares two things like bigger and smaller, where "est" helps you determine what has the most like biggest and smallest (which really means the most small!) Next week the students will practice reading fiction stories and drawing conclusion based on evidence given by the author. The students will also practice adding "s" or "es" to the ends of words to make them plural.
Here are some of our readers hard at work!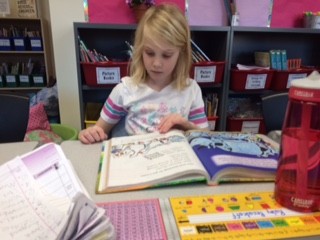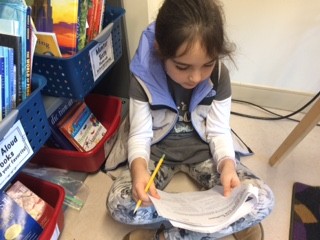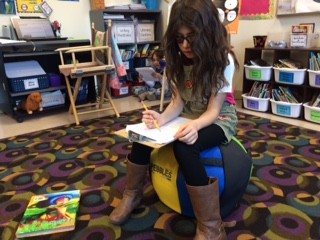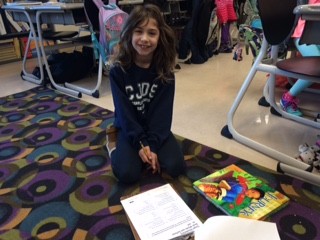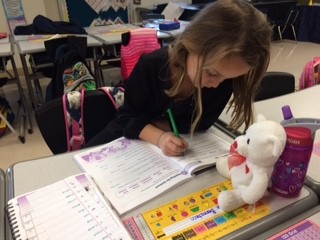 Writing
The students finished writing their stories about winter break and Hanukkah this week. As we come to the end of our unit on organization we are going to focus on writing interesting beginnings or "leads" to our stories and ending our stories in a way that makes everything feel wrapped up. Our next writing unit will cover writing with voice.
Here is one of our writers sharing her finished story!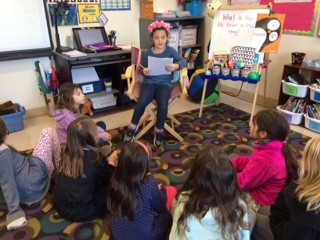 Spelling
This week the students either reviewed a spelling skill that they needed to practice or they worked on making words plural. Next week we are going to practice adding "es" to the ends of words.
Here are some of our students practicing the spelling skills.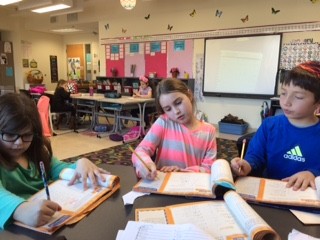 Vocabulary
This week the students read an informational fiction story. We learned that this genre is made up, but still full of real facts. Next week the students will read a recipe showing how to make pineapple pancakes! We will study the "how-to" genre and look for the different ways recipes and other types of directions are organized. Our new words will be: Bright, chew, flour, forest, hour, inn, island, nibble, pale, and warn.
The students are very focused while reading their vocabulary stories!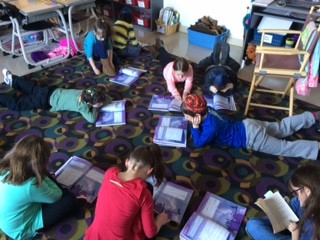 Math
As we come to the end of our geometry unit we are exploring 2D and 3D polygons! The students stretched rubberbands across geoboards to create quadrilaterals, trapezoids, rhombuses, and parallelograms. Our "Shape Master" walked around and checked all of the students' shapes to make sure they had the correct attributes. We made a huge Venn diagram this week and used it to sort the attributes of different shapes, like cylinders vs. spheres. The students also worked on find symmetry in 2D shapes and began some early division skills by breaking a bigger group of items apart into smaller groups. Our next unit will cover more addition and subtraction strategies.