Reading
This week the students continued working on the comprehension strategy of comparing and contrasting. They used the My Family story to create a Venn Diagram comparing their family to the family in the story. We also worked on using a glossary to help us understand harder terms in a text. The students had a blast flipping through nonfiction books and looking at all the different glossaries! We learned a lot about volcanoes and hurricanes from those books! The students learned how to make complete sentences this week which built upon their knowledge of subjects and predicates. Next week, the students will work on identifying the author's purpose for writing different texts, using context clues to find the meaning of multiple meaning words, and writing statements and questions. The students will practice their comprehension strategies by reading the story, Henry and Mudge, Under the Yellow Moon.
Vocabulary
The students began their vocabulary lessons this week by reading the fiction story, A Sudden Storm. Our vocabulary words come from this story and we will continue learning about these words next week. Our words are: Branch, brave, dash, evening, greedy, pass, present, stream, trail, and wise.
Spelling
This week, the students studied words containing the long and short "i" sounds.  Next week, we will study words containing the long and short "o"  sounds, like dropped and envelope.
Math
As we completed our first math unit, the student practiced using calculators, worked on place value, reviewed counting coins and dollars, and continued working on telling time to the minute. Reading clocks is a skill they can practice outside of school all year long! The students wrote addition and subtraction number stories (word problems) and practiced adding doubles like 8 + 8 and 12 + 12. We also studied a strategy called the +9 strategy which helps the students solve addition problems where they need to add nine. To use the +9 strategy, you add ten and take away one instead of trying to add nine. For example, instead of doing 25 + 9, the students learned they can use the easier problem of 25 + 10, and then take away one to get a final answer.
Writing
Our writers are working on adding details, details, and more details into their writing. They are encouraged to include details about colors, shapes, sizes, textures, smells, tastes, and more so that their readers can picture what they are describing. Next week, each writer will choose a food to describe with as many details as possible, then we will try to guess the food they are describing!  We are also practicing writing in complete sentences that begin with a capital letter, end with punctuation, and contain a subject and predicate. Below the writers are sharing their work with one another.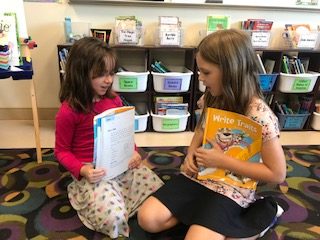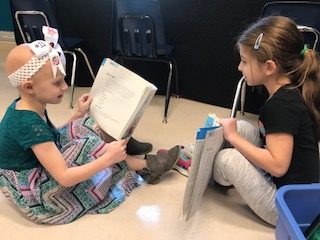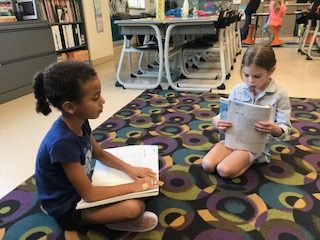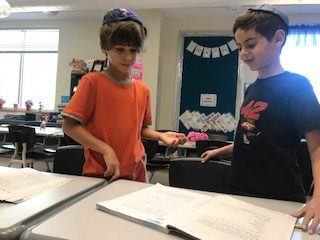 Project Based Learning- Social Studies
As we come to the end of our unit on being good citizens, the students studied the differences between public vs. private issues and learned how to take a position on issues that impact our community. The students heard Rosa Parks' story about when she refused to give up her seat on the bus. We talked about respectful ways to state our opinions so that we can create positive changes in our community.